The best of both worlds: a novel food ingredient approved by the European Commission with a remarkably mild taste appealing to consumers – that's our BlackGrain from Yellow Fields™. Our test kitchen, pilot test, and industrial test demonstrate how easy it is to integrate the nutritionally packed BlackGrain in your recipes.
Future partners of Apetit will not have to spend time testing and researching the BlackGrain ingredient, solutions, and applications — our team has already done that.
Recipes created with BlackGrain are both packed with nutritional value and appealing to consumers. Here are four delicious food applications we have proven BlackGrain to suit well.
1. Packing cereals with gut-friendly ingredients and protein
Most breakfast cereals are loaded with empty carbohydrates and sugar. In large doses, they result in a rapid rise in blood sugar levels and tiredness. Apetit had tested this application in a pilot and industrial scale: the purpose was to add BlackGrain rapeseed powder ingredient into the cereal recipes and create a healthier breakfast option.
– In our test runs, adding 15% of BlackGrain increased protein and fibre by 4% and fat by 2%. The final product can be labelled as a source of fibre or high in fibre. The nutritional claim achieve will depend on how much BlackGrain is added and the formulation used, explains Apetit Product Development Manager Leticia Valenzuela.
The powder can be added to the flour mix before extrusion in all kinds of cereals, from cornflakes to chocolate ones. The plant-based ingredient is gluten free, gut-friendly, and meets a broad range of dietary demands.
– Our ingredient doesn't contain oligosaccharides, which can be fermented in the gut and be unsuitable for people with irritable bowel syndrome (IBS). When combined with another gut-friendly ingredient, it's safe regardless of age or diet limitations. Even many challenging combination diets, such as gluten-free ketogenic, low FODMAP, and vegetarian-vegan Valenzuela notes.
Read more about how to increase the fibre content of your food products.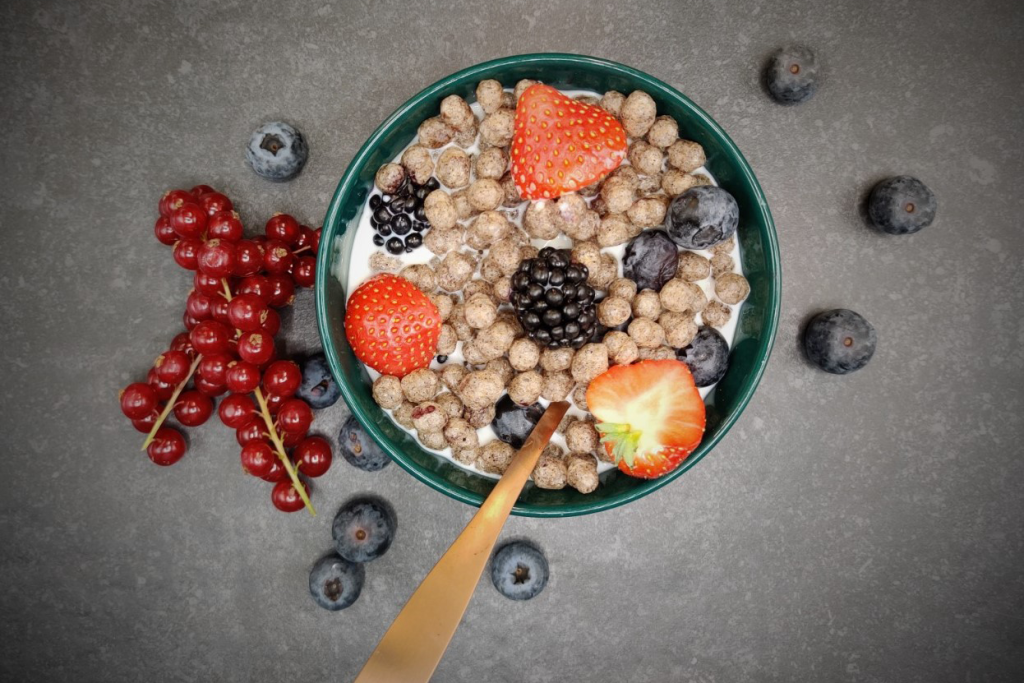 Test results – Benefits of BlackGrain in extruded products
Increases the protein, fibre, and fat content.
Doesn't affect the puffing of the breakfast cereal, its quality nor its nutritional content.
The particle size does not interfere with the cereal extrusion.
Gut-friendly: soy-free, legume-free, dairy-free, low in FODMAPs.
No negative effects on the oxidation of BlackGrain fats in extrusion.
2. Veggie balls received warm welcome from taste testers
Creating new vegetarian recipe alternatives can be difficult for restaurants. That's why Apetit launched Mini-Veggie balls in the hotel, restaurant, and catering sector. The vegan, fibre-rich, gluten-free, and soy-free product is a healthy and environmentally friendly alternative to meat.
– Mini-Veggie balls are made from pea protein and BlackGrain. They work as a protein source in schools, restaurants, and staff restaurants, for example in salads, stews, or as a meatball substitute in pasta sauce, says Apetit's Product Development and Portfolio Manager Hanna Pere.
When taste tasting products both with and without BlackGrain, the latter received a warm welcome from the customers.
– BlackGrain not only softens and neutralises the strong taste of pea protein but keeps the structure of the Mini-Veggieballs more succulent.
Read more about creating plant-based recipe options for the hotel, restaurant and catering sector.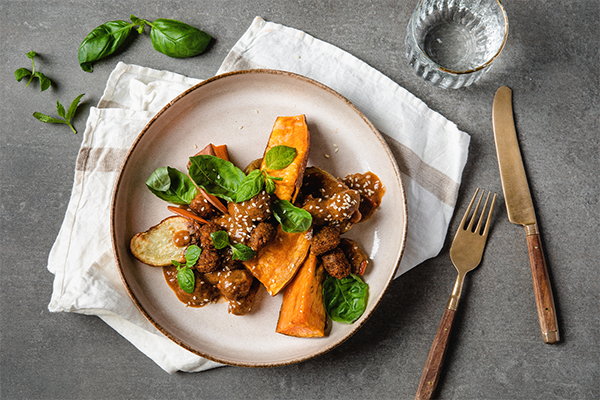 Test results – Benefits of BlackGrain in meat analogues
Contains minimal amounts of allergens.
Rich in protein, fibre, and essential fatty acids.
Requires fewer binding ingredients.
Versatility in diverse recipes from salads to stews.
Softens and neutralises the strong taste of pea protein.
Keeps the structure of the food application more succulent.
Enhances the appearance of the product by adding a bit of colour.
3. Impress consumers with clean labels and flavour – even all-raw snack bars convinced the demo kitchen tasters
Modern consumers have hectic lifestyles that require convenient food products, such as snack bars. A clean label and minimal processing of BlackGrain appeal to busy and health-conscious people.
– BlackGrain is not the kind of additive you need to try to hide. It contains enough high-quality unsaturated fatty acids to fully replace any other fat that would normally be added to the product, such as palm oil or coconut oil, Valenzuela says.
BlackGrain combines well with starches like rice, barley, corn, and oats.
– The mild syrup-like taste makes it easy to blend in any recipe. When we tested raw bars in our demo kitchen, our panel couldn't detect the taste of BlackGrain even in minimally processed all-raw snacks.
The unique 3-in-1 combination of protein, dietary fibre, and beneficial fats entails high nutritional value with fewer components in your snack bar recipe.
– Anything up to 20% of BlackGrain can be added to the recipe mix without compromising on taste or texture, Valenzuela adds.
Read more on creating convenient and healthy snacks for modern consumers.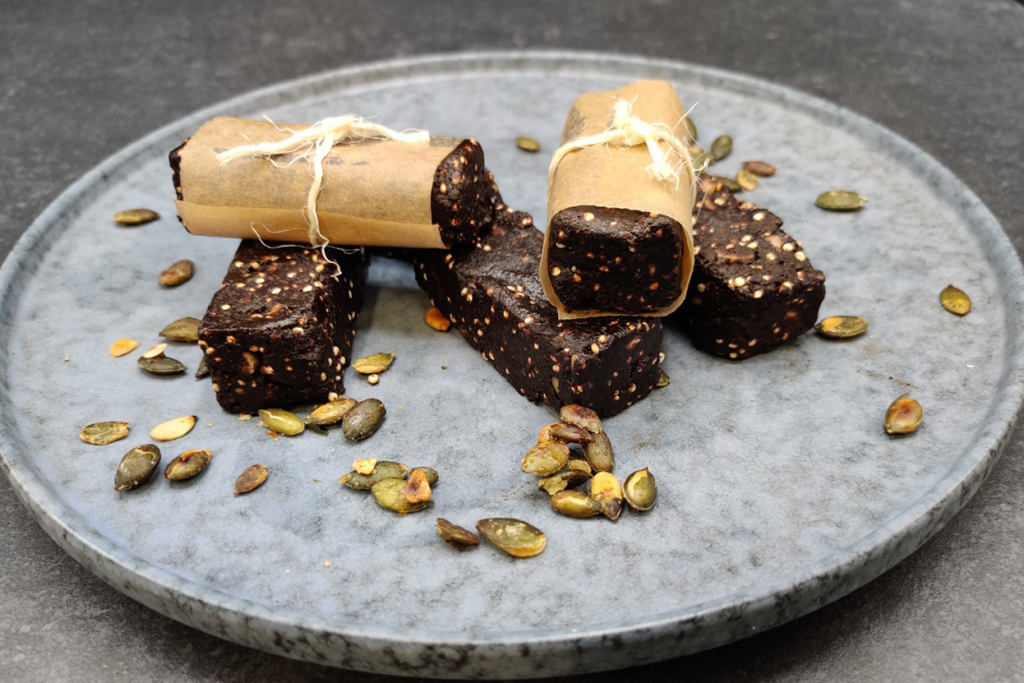 Test results – Benefits of BlackGrain in snack bars
Answers multiple consumer demands: clean label, convenience, health, sustainable food options.
A selling point in a heavily competed industry: pure, sustainable, and minimally processed ingredient.
Naturally mild and syrup-like taste. Doesn't increase the sugar content.
Unique 3-in-1 combination of protein, dietary fibre, and beneficial fats.
Easily achieves the claims "high in protein" and "high in fibre".
High in healthy unsaturated fatty acids omega-3 and omega-6.
4. Experimenting with gluten-free bread dough consistency and a balanced ratio of nutrients
The next generation of gluten-free foods pays more attention to quality, taste, and nutritional characteristics than ever before.
– We give gluten-free bakeries a simple way to create a wholesome loaf of bread with a tremendous amount of high-quality fibre and protein. BlackGrain provides plenty of insoluble fibre and all the essential amino acids in a balanced ratio, Valenzuela notes.
Experiments in the Apetit test kitchen reveal that BlackGrain combines well with gluten-free baking starches and improves the dough consistency.
– Unlike many flours and powders, BlackGrain doesn't have inconvenient electrostatic properties. It won't stick to the sides of your mixing bowl or machine when mixing.
Read more about how BlackGrain suits a wide range of special diets.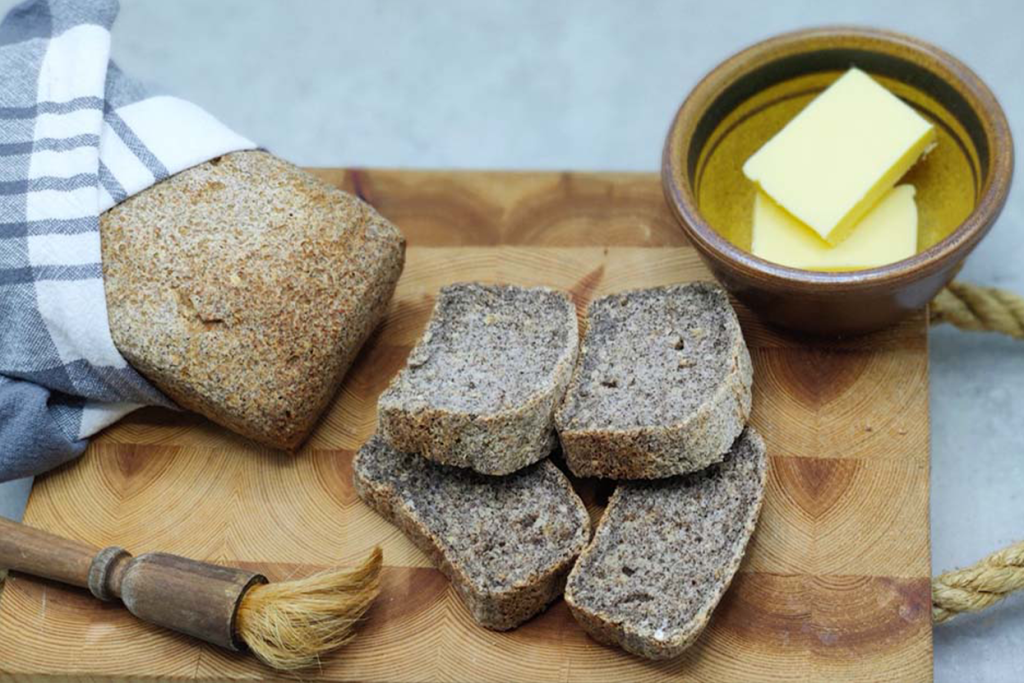 Test results – Benefits of BlackGrain in gluten-free bread
Improves water absorption and helps to keep gluten-free bread dough moist.
Combines well with gluten-free baking starches.
No electrostatic properties – slightly coarse texture improves the handling of the dough.
Stabilises bread structure without interfering with how the bread rises.
Vegan, dairy-free, legume-free, GMO-free, and low in FODMAPs.
Excellently suited for brown, multigrain, rye, or sourdough bread, as well.
Don't just take our word for it – order a sample of BlackGrain and run your own tests!