Consumers are increasingly aware of the impact of their food choices on their health and wellbeing, as well as that of the world around them. This is reflected in the hottest food trends. Companies with products and marketing that answer as many trends as possible have much to gain in the changing market landscape.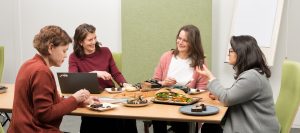 Long-standing food trends, such as sustainability, health, and wellness, will grow more important than ever in 2021. Food companies that can address as many trends as possible are likely to grow. In addition to Europe, there is great growth potential in Asia, where trends like sustainable food are starting to gain more traction.
In their quest to seek out the most ethical, sustainable and healthy choices of food, many consumers turn to clean label products. A growing number of people prefer ingredient lists they can understand with ease and are willing to pay more for wholesome food manufactured directly from natural sources.
Comfort and ease-of-use are also two trends on the rise. Combined with the trends mentioned earlier, it can make for a challenging mix: how to create a sustainable and ethical product that is also easy to understand and simple to use? At Apetit, we believe we have the answer.
A valuable opportunity for food businesses to do real co-creation and innovation
BlackGrain from Yellow Fields™ is a new plant-based ingredient with which you can hit all the trends mentioned above: it's produced from high-quality rapeseed in a sustainable, ethical way in Finland. The goal right from the beginning was to utilise all the good nutrition that is hidden in the small black seed. Its nutritional content and combination of fibre, protein, and fat is ideal for healthy food applications.
—There is a chance here for food businesses to create something amazing, not just product-wise but from a storytelling standpoint as well. Those who will take this chance will be trailblazers, says Jenny Tallberg, Business Development Manager at Apetit.
The company is now looking for partners to work with. Tallberg and her team take pride in their hands-on approach to partnership: not just shipping samples but real co-creation from the beginning. BlackGrain from Yellow Fields™ is currently approved to be used in applications such as breakfast cereals and granolas, bread, and meat analogues. More are already in the works.
Read the story of Apetit's team.

Get a head-start with a well-researched and tested ingredient
Basic recipes have already been developed and tested in Apetit's test kitchen. Dosages, effect of particle size on usability and things such as colour have been taken into consideration.
BlackGrain from Yellow Fields™ has been approved as a novel food ingredient by the European Commission. Thanks to the thorough research and testing required by the application process, future partners of Apetit will not have to spend time testing and researching the ingredient, solutions and applications — the team has already done that.
—You will not be investing in only the ingredient but also a remarkable amount of expertise surrounding it. Partnering with us, you can leave the research and knowledge regarding rapeseed to us, says Tallberg.
What does it take to receive a favourable opinion for your novel food ingredient from the European Food Safety Authority (EFSA)? Our expert shares her tips.
A chance to do something amazing — and pave the way for more responsible consumerism
Plant-based ingredients are sometimes approached as substitutes for meat or dairy. Tallberg and the team at Apetit are hoping to do their part in changing attitudes.
—We hope businesses and consumers see the same potential in BlackGrain™ as we do. It's not just a replacement but also an enhancement. It can enhance the nutritional values of a given product and is a gateway to new food innovations. Most importantly, it provides consumers with more of the ethical and sustainable options they are so fervently looking for, explains Tallberg.
She hints that even though the company is currently launching BlackGrain™, new innovations and ideas for ingredients and applications are already brewing. Indeed, the team at Apetit prides itself in being highly innovation-oriented.
Apetit Group is a food industry company firmly rooted in Finnish primary production. Apetit is also Finland's most significant producer of vegetable oils and rapeseed expellers. For Apetit and BlackGrain from Yellow Fields™ this means that since rapeseed is already cultivated and pressed for rapeseed oil, this ingredient will not face sourcing challenges.
Do you have an idea for the next plant-based food phenomenon? Get in touch!